This week's Memory Monday photo submission comes to us from Tracey Weldy of Burlington, Pennsylvania. Tracy tells us the following about this week's photos;"Every year our family gathers in
Corolla
for a reunion. We travel from Troy Pa and Gaithersburg MD. This year we had the privileged to stay at the house "
Four Sea Sons
" in Whalehead Beach. What an amazing house! The best we have stayed at by far and we have been coming for 8 years. Our trip this year was the week of July 16th-23rd, we could have asked for more perfect weather. On our last night in Corolla we decided to take the family kayaking for their sunset kayaking tour.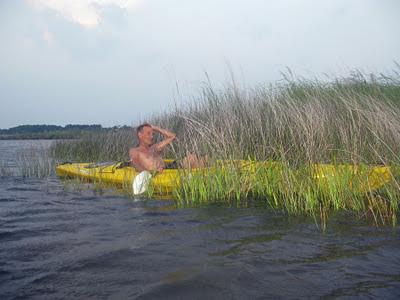 None of us had never been kayaking before. All of can't wait to go again! What a wonderful experience to see the lighthouse at sunset from the inlet. The photo of the gentlemen in the weeds is Neil Congdon (my father). This photo makes me laugh. The other photo submitted was taken walking down the pier to the kayaks. Again we thank you for such a great vacation. July can not get here soon enough for us to come back and stay with
Outer Banks Blue
!"Thanks Tracey. We look forward to serving you all again soon!All the best from the beach!