This week's Memory Monday submission comes to us from Robin Sylvester ofSterling, Virginia who stayed with us in "
Halcyon
" this past July.Robin sends us two photos today, one is of "the unexpected visits by thepelicans and tried to catch them whenever we could. We were out on thebeach prior to a rainfall and caught them heading out to sea to fish. Ilove the contrast of blue and dark skies and the pelicans just made it evenmore special."The other photo Robin tells us about is of one of our most popular type ofsubmissions....the family dogs. "This was our dogs' first summer visit tothe Outer Banks. Duck and Corolla are so dog friendly, we've since decidedwe'd always bring them (long hair and all)."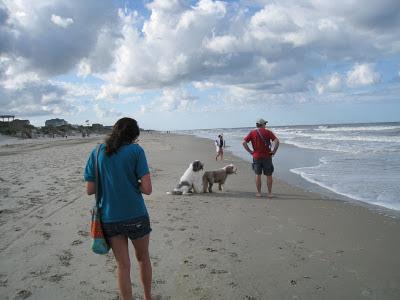 Keep in mind dog lovers that Outer Banks Blue offers more than 80 "
DogFriendly
" properties for your "entire" family's enjoyment.Take a look at the options available for you and your four legged familymembers. We look forward to serving you all soon.Thanks to Robin for sharing her memories with us this week as well!All the best from the beach!