Greetings from a rainy, but unseasonably warm Outer Banks!   We are counting on the groundhog being wrong about winter lasting another few weeks as yesterday we enjoyed record high temperatures, and this week we are expecting temps to be above normal every day.   Weather is always on the top of our minds here on the Outer Banks and that is the theme of this week's Memory Monday contest submissions.   We are calling this week's entries Pier pics.We have several great fishing piers on the Outer Banks.   Kitty Hawk Pier,
Avalon
,
Nags Head
,
Jeannettes
,
Outer Banks
,
Rodanthe
and
Avon Piers
all dot the coast.   We don't know about you, but we find the concept of a structure in the ocean captivating to look at.  Particularly in less than ideal weather you get some remarkable pictures of high waves and a structure absorbing the energy of those waves.Our first picture comes to us from John and Wendy Plenzler of Xenia, Ohio who stayed with
Outer Banks Blue
last September in the Nags Head vacation rental property "
The Nags Header
."   John and Wendy were here during the time when Hurricane Jose passed along just off the coast of North Carolina and kicked up some pretty good sized waves.   The Nags Header vacation rental property is located near the Nags Head Pier and they snapped this photo of the storm's strong waves coming ashore.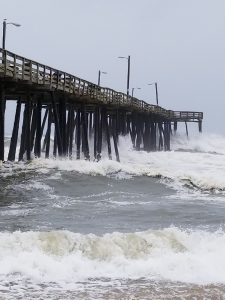 Now keeping this image in mind, contrast the opposite side of these waves crashing into the pier with this photo that comes to us from Jolene Henry who took a picture of the same structure just two weeks before the Plenzler's visited.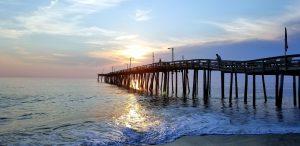 Pretty and amazing huh?    By the way, Jolene who hails from Marlton, New Jersey stayed with her family and Outer Banks Blue in the Nags Head vacation rental property "Huron Haven."Great shots and a great contrast to how things change on the Outer Banks in terms of weather in the same location over a relatively short amount of time.Thanks to Jolene, Wendy and John who all shared their photo memories with us this week.  We look forward to serving you all again soon.All the best from the beach!