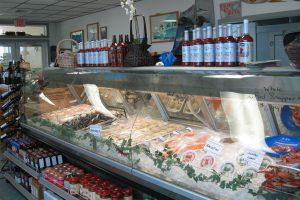 The first written reports of the fishing on the Outer Banks may have been exaggerated. Writing in 1584 Arthur Barlowe told readers that a native "... fell to fishing, and in less then half an hour, he had laden his boat as deep, as it could swim." A bit of hyperbole, perhaps, since Barlowe's broadsheet was designed as much for information as it was for marketing, but his wasn't the only account pointing to an abundance of seafood in Outer Banks waters.For a number of reasons, the fishing isn't quite that good anymore, but North Carolina waters are still among the most productive there are and while visiting the Outer Banks, there is fresh seafood that is better and with more selection than almost any market or store farther inland.We've put together a list of some of the fish and shellfish that our local fishermen land from time to time with a very brief description of how to prepare them. We have also included a list of local seafood markets.
Some Fish to Contemplate
Yellowfin Tuna
Although the TV program Wicked Tuna has made it seem as though bluefin tuna are everywhere in the waters of the Gulf Stream, yellowfin tuna is the catch of the day at area seafood markets.An offshore species, yellowfin is often found swimming in the Gulf Stream and is a favorite of sport fishermen.Available fresh year round, yellowfin tuna is the steak of the seafood world. Really...cook it just like a steak. Raw tuna is frequently used in sushi recipes as well.A note about imported Yellowfin Tuna: The deep red color of fresh tuna is one way to tell if it is fresh enough for sashimi. To stabilize the color, imported yellowfin will sometimes be injected with carbon dioxide as soon as it is caught. The carbon dioxide stops the process that changes the deep, rich red color of the flesh to a brown shade, making the tuna steak look fresh. The gas does nothing to stop the growth of bacteria or spoilage. Outer Banks commercial fishing and fish houses do not use carbon dioxide on their catch.
Wahoo
Sleek and an incredibly fast swimming fish—speeds up to 60 mph have been recorded—wahoo is a highly sought after game fish. Because it does not swim in schools, it is usually caught as bycatch, so seeing it at a local market is treat.A firm white fleshed fish, the flavor is mild and slightly sweet. One of the few white fish that will hold up to grilling.
Cobia
Another solitary predator fish, cobia will sometimes way over 100 pounds, although most cobia that is caught is in the 30-40 pound range—which is still a good-sized fish. Cobia are often caught from the end of a pier, and it will sometimes venture into the Outer Banks sounds seeking crab, one of its favorite foods.Another firm fleshed white fish, it's flavor is similar to Wahoo, but little more complex. Grill it, sauté it...enjoy.
Mahi-mahi
Also called dolphinfish or dorado. A colorful body and a flattened face make this one of the most distinctive looking fish. When young, Mahi-mahi is a schooling fish. When mature, they tend to swim in pairs or alone. As a consequence, small mahi is more common commercially.The flesh is slightly pink in color, with a hint of sweetness. Mild, it picks up flavors very well. Put it on the grill or use it with a marinade.
Flounder
There are three kinds of flounder that swim in Outer Banks waters—summer flounder, southern flounder and gulf flounder. Summer flounder and southern flounder are by far the more common. Surf and sound fishing is more likely to land southern flounder, which prefer nearshore waters and estuaries.A very mild flaky white fish, founder is ideal for broiling or frying.
Oysters
North Carolina oysters are making a comeback. Over fishing and bad management practices almost wiped out the stock, but in the last five years, they have become available again. The oysters are almost all farm raised.Like wine, the taste of an oyster changes dramatically depending on where it was raised. Oysters coming from the Nags Head and Wanchese area tend to be mild, almost sweet. Oysters raised farther south, where the water is saltier, have a saltier flavor and a bit stronger flavor.Fried, in soups or stews, baked, steamed or even raw...oysters are always good.
Shrimp
One of the most important estuarine species, fresh shrimp is available from late spring into fall.Slightly sweet, with a snap in the texture, fresh shrimp is so much better than the farm raised, frozen product coming from foreign countries that it's almost as though they are two different species.There are so many ways to enjoy shrimp that we can't list them all, although raw is not recommended.
Seafood Markets
Most Outer Banks seafood markets are seasonal. Carawan and O'Neal's Sea Harvest are open year round, but even they restrict their hours in the offseason. Especially in the spring and fall, call to confirm hours of operation.Supermarkets will often feature fresh seafood, but it is rarely local. Large supermarket chains often have distribution requirements that local fish houses can't match.We're listing only the seafood markets north of Oregon Inlet.
Bluewater Seafood Market
501 Old Stoney Rd, Corolla(252) 453-9921
Butcher Block
807 Ocean Trail, Corolla(252) 453-3663
Dockside North Seafood Market
819 Ocean Trail, Corolla(252) 453-8112
Dockside 'N Duck Seafood Market
1216 Duck Rd, Duck(252) 261-8687
Carawan
5424 N Croatan Hwy, Kitty Hawk(252) 261-2120
Billy's Seafood
1341 Colington Rd, Kill Devil Hills(252) 441-5978
Austin Fish Company
3711 S Croatan Hwy, Nags Head(252) 441-7412
Whalebone Seafood Market
101 E Gray Eagle St, Nags Head(252) 441-8808
O'Neal's Sea Harvest
618 Harbor Rd, Wanchese(252) 473-4535