If adventure is something you crave then the Outer Banks has a lot to offer you. With the Outer Banks being the site for the first flight it is no surprise that we have become a destination for those who love an adrenaline rush. There's nothing like combining the beauty of the Outer Banks with a heart racing activity to create the perfect Outer Banks adventure.
#1 Mile High Hang Gliding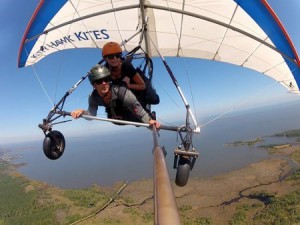 Kitty Hawk Kites
has been providing hang gliding on the Outer Banks since 1974.  They provide lessons for adults and children off the dunes of Jockey's Ridge, but they also provide Tandem Hang Gliding on this Currituck mainland that tows you up to 1 mile in the sky (5,280 feet) giving you a bird's eye view of the coastline above the Currituck Sound as you drift back down to the ground over a roughly 20 minute descent. This is certainly not for those with a fear of heights but it is the perfect unique experience for the adventurer at heart.  The best part is this is also a "no experience needed" activities since you are strapped in with an expert to guides the glider for you.
#2 First Flight Adventure Park
First Flight Adventure Park
is an aerial obstacle course that goes up to 50 feet high.  The course is shaped to resemble outer bands of a hurricane, branching out from the central tower which resembles the eye of the Hurricane.There are 6 courses total and each course consist of 7 obstacles, and it looks like more challenges are coming this year. The obstacles are designed around a maritime theme using ropes, cables, wood, barrels, stir-ups, a hammock and more. The higher up the central spiral staircase you go, the more difficult the obstacles become. At the end of each course there is a short zip back to the central tower. Have no fear, climbers will be in a harness and attached to a safety device while completing each obstacle, at all times. Climbers take the action into their own hands by choosing to go on easy, intermediate, or advanced courses.Read about
Bill Koebernick's experience
when the park first opened.
#3 Kiteboarding

The most exciting and thrilling new water sport, kiteboarding, is guaranteed to get your heart pounding, yet it is easy enough for almost anyone to learn! Kiteboarding, or kite-surfing, a synergy of wind and water forces, takes harnessing the wind to the extreme! Learn to kiteboard at
Kitty Hawk Kites
under the guidance of an expert and certified instructors that have been leading the sport since its conception! It is the hottest new kite sport to sweep the world, and it thrives on pure adrenaline!
#4 Jetpak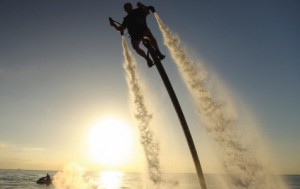 This is an aquatic jet pack provided by
Kitty Hawk Kites
. The rumor is most people can't handle more than a 30 minute ride at a time due to feeling like you just went on a 30 minute sprint.  While that may seem a little intimating, it is also a unique experience that's hard for the adventurer-at-heart to pass up.
#5 Airplane Tour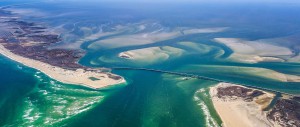 To truly appreciate the Outer Banks it takes a unique perspective to this unique place. The Outer Banks is made up of some of the most diverse landscape found anywhere. From the air you can see this incredible area featuring shipwrecks, sand dunes, endless beaches, maritime forests, lighthouses and much, much more.We highly recommend booking your tour through 
Above the Coast
.
#6 Parasailing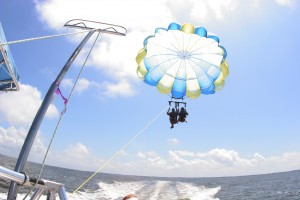 Soar above the water for breath taking views. Parasailing, also known as parakiting, has been around since the mid 80's.  On the Outer Banks you are attached to a parachute that is being towed by a boat anywhere from 600 ft. to 1,200 ft., for approximately 10 minutes.If you're staying in the more northern part of the Outer Banks (Corolla, Duck, Southern Shores, etc.) you can use 
Nor'Banks Sailing
 or Kitty Hawk Kites. If you're closer to Nags Head/Manteo then
Kitty Hawk Kites
 is the closest option.
#7 Jet Ski Tours
Anyone can have fun riding a jet ski, but if you really want to take it to the next level take a tour to see the area from a local's perspective on a guided tour. Join with an experienced tour guide who knows the area inside and out. They'll spot dolphin activity that you'd probably miss on your own. They're familiar with the marshland wildlife and the historic landmarks.
#8 Stand Up Paddleboarding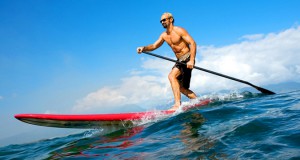 Stand up paddleboarding (SUP, also known as stand up paddle surfing) originated in Hawaii as an offshoot of surfing. Unlike traditional surfing where the rider is sitting until a wave comes, stand up paddleboarders maintain an upright stance on their boards and use a paddle to propel themselves through the water. Take a ride through the marshland and take in the beauty of the Outer Banks or, for more adventure, take to the ocean waves to do a little surfing.Stand up paddleboards can be rented or purchased in nearly every town on the Outer Banks so locating one shouldn't be difficult.
#9 Kayak Tours
Kayak tours are a great way to spend the day soaking in the sun while soaking in the wildlife activity of the Outer Banks.  Most tours guided tours are designated by where you're be, such as the Pine Island Audubon Sanctuary, Maritime Forest & Marsh, Alligator River National Wildlife Refuge, and many more locations.  Each location has its own unique history and wildlife, including a night tour to observe the bio-luminescence (glowing florescent bacteria).I found the most complete list of available kayak tours at
Kitty Hawk Kites
.
#10 Surfing Lessons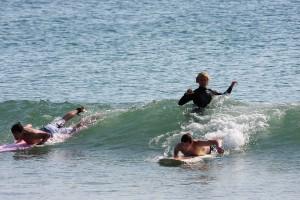 While the Outer Banks isn't most popular surfing destination in the world it is certainly one of the favorites on the east of the United States.  It's also a great place to learn.  The wave conditions are frequently just right to learn the basics to begin catching your first waves.
Kitty Hawk Surf Company
provides surfing lessons for groups or individuals in multiple locations on the Outer Banks. There are also half-day surf camps for kids such as the
Hukilau Surf Camp
 that takes place in Nags Head. This is some of our favorites Outer Banks adventures. Did we miss any of your favorites?Keep in mind that nearly all of these activities require some sort of planning or reservation. Please plan accordingly.