Happy Memorial Day 2019 to you from all of us at Outer Banks Blue! It has been a fabulous weekend so far with sunny skies and very warm temperatures on the beach. Lots of people are here, and we hope all of them are taking time to remember the reason for Memorial Day.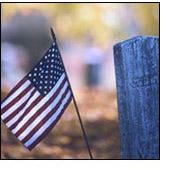 Memorial Day, as you know, is the last Monday in May each year and it is an american holiday honoring the men and women who died while serving in the U.S. Military.
Originally known as "Decoration Day," it originated after the Civil war in 1868 the day did not become an official federal holiday until 1971.
In 1966, the federal government designated Waterloo, New York the official birthplace of Memorial Day. Waterloo first celebrated the day in 1866 and was chosen as the birthplace of the day because it hosted an annual event. The community event is highlighted by businesses closing for the day and residents decorating the graves of soldiers with flowers and flags.
Keep in mind as well that at 3 PM is the official moment of remembrance where all should pause to remember and honor those that have fallen.
Whatever you do today to honor those who have made the ultimate sacrifice we hope you enjoy the day with family and with safety.
All the best from the beach!